Born in Dartmouth, Nova Scotia, Bob excelled in baseball, basketball and hockey. With respect to the latter, he attended Saint Mary's University in Halifax in 1967 and became the 'first Black' to play in the Atlantic Intercollegiate Hockey League (AIHL). In 1968, Coach Bob Boucher regarded Bob as one of the most improved defensemen in the League. Later, he was joined on the team by Darrell Maxwell and Percy Paris. In 1970, during a game at Mount Allison University in New Brunswick, the trio played together to become the 'first all-Black line' in the history of Canadian university hockey. They played together again in a game against Acadia University. As it happens, the three of them share a bit of hockey history with the famous 'all-Black line' of Herb and Ossie Carnegie, and Manny McIntyre who played together in the 1940s and 1950s in the Quebec Senior League.
While at Saint Mary's, Bob helped the Huskies compile an impressive record of 72 wins against 13 losses. In 1969, 1970 and 1971, the team won the AIHL conference championship and represented the League in each of those years at the Canadian Intercollegiate Hockey Championships. Former NHL player Lowell MacDonald of the Pittsburgh Penguins, who attended Saint Mary's at the time to finish his degree, felt that he had the talent to play in the NHL, if given the opportunity.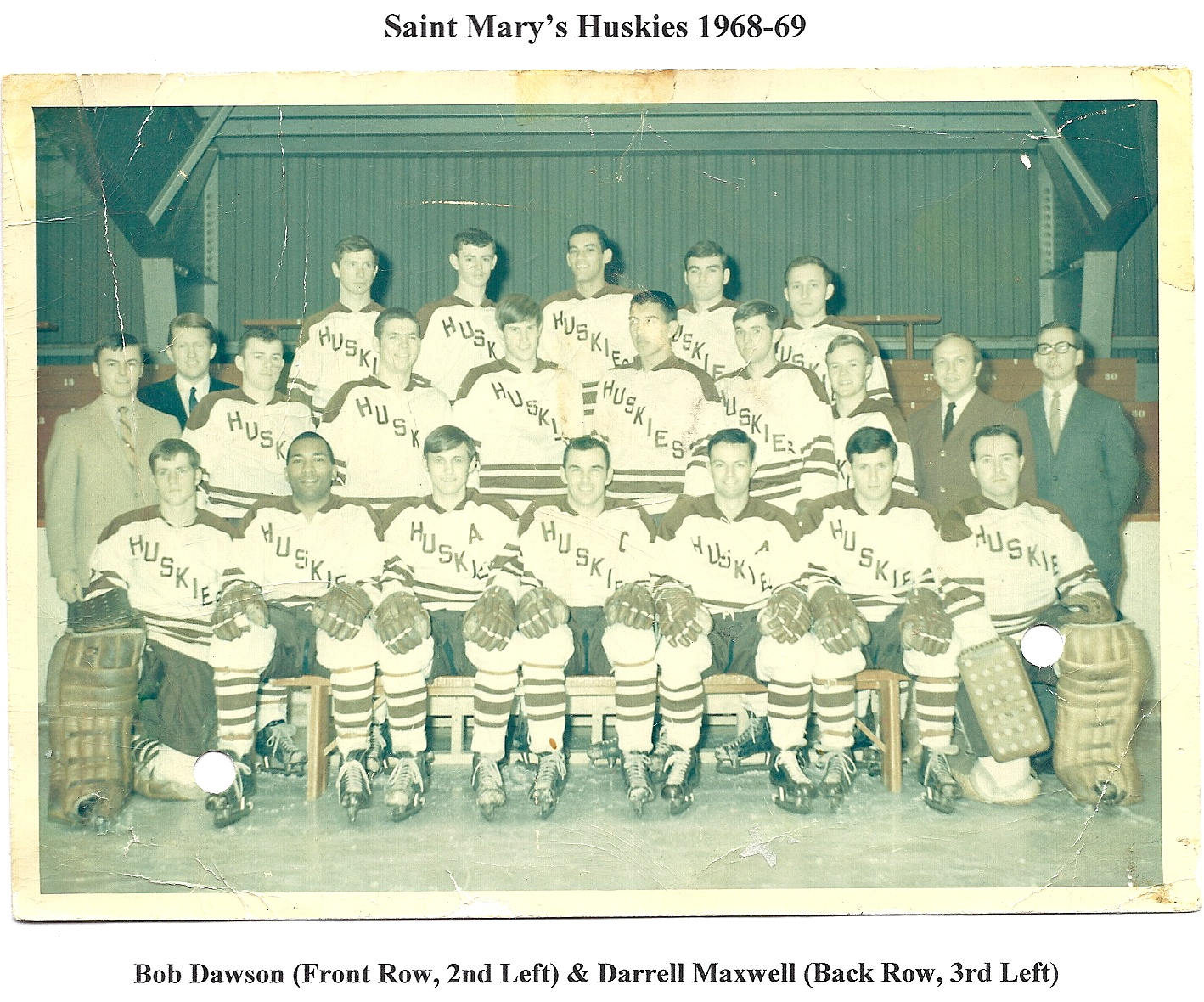 Rather than pursing a career in hockey, Bob went on to Dalhousie University where he graduated in 1973 with a Masters Degree in Social Work. After graduation, he joined the Federal Public Service where he worked in human resources management in the areas of staffing, employment equity and diversity, and career development. Given his passion for hockey, Bob played for several years in the Halifax Intermediate and Nova Scotia Senior Hockey Leagues where he was considered one of the best defensemen. In 1980, Bob and his family moved to Ottawa where he continued his career in the Federal Public Service. He resumed his love for hockey and played for 15 years with the highly successful Ottawa Travellers. Bob was invited in 1983 to play for the Montreal Rusty Blades in the 2nd Annual Global Cup in Puigcerda, Spain. At the tournament, he was selected to play on the Canadian All-Star Team that played against the Spanish National Hockey Team. To this day, he continues to play hockey in Ottawa.
Because of his important contributions in employment equity and diversity in the Federal Public Service, Bob received the Public Service Commission of Canada's Excellence and Bravo Awards and the Public Service of Canada's Michelle Comeau HR Leadership Award. While living in Ottawa, Bob has worked with community groups/organizations on various social issues. In recognition of his work in the area of police-community relations, he received a Civilian Citation and Community Service Award from the police services boards for the cities of Gloucester and Ottawa.In light of his sports background and interest in writing, Bob was invited by George and Darril Fosty, founders of SONAHHR (Society of North American Hockey Historians and Researchers) and owners of Stryker-Indigo New York Publishing, Inc., to write articles for their online Boxscore World Sportswire. His articles can be found at http://boxscorenews.com/index90.htm . Bob has appeared on local TV and radio shows to talk about Blacks and hockey. In February 2012, the Black Ice Hockey and Sports Hall of Fame Society recognized him for his achievements in hockey.
Currently, Bob is on the Executive Board of SONAHHR as well as the organization's Black Ice Project. He is also one of the founding members of the Black Ice Hockey and Sports Hall of Fame Conference. Now retired, he works as a consultant in the areas of employment equity and diversity, and race relations.
Hockey is Diversity is proud to announce that Robert "Bob" Dawson is supporting the initiative.